I'm going to once again put a couple of days in a single post, which starts with us leaving the Nurburgring on Monday to drive closer to Munich for our show here on Wednesday. As soon as the races were over here, this place instantly became a ghost town – it went from throngs of people to nobody. So, we had a very quiet breakfast buffet at the hotel (had the whole place to ourselves), and we hit the road. 
5 hours later, we arrived in Neu-Ulm, which looks like an industrial district, mixed with some residences. Our hotel is also incredibly industrial and spare…not my favorite place, frankly, and we're here for days. That's one of the uncertainties of touring…the quality our hotels. Sometimes, we're surprised with incredible accommodations, but other times, it's a disappointment. This place leaves a lot to be desired, but hey – we've had great hotels so far on this tour, and it's a place to rest our heads a night, if nothing else. 
We were hungry after we checked in, and tried to find someplace to eat. Not easy in an area like this. The hotel has a restaurant, but it was closed, so the only place that looked somewhat decent near here was a diner at a movie theater. Unfortunately, it wasn't decent – we won't be back. But after leaving our late lunch/early dinner, we stumbled upon a huge supermarket, so we went in and stocked up on some basics to have in our rooms. 
After that it was mundane stuff…did laundry at the hotel (which was MUCH needed as we hadn't found laundry facilities yet, and we were traveling with too many dirty clothes), had a couple of drinks downstairs, and then called it a day. 
Tuesday was a different story. It happened to be July 4th, and it felt strange to be so far away from home, where there was no indication at all that it was a holiday. Since it was a day off, we decided to do something fun, and we took about an hour drive to Schwangau to visit the Neuschwanstein Castle. I had been there once as a child when visiting relatives in Germany, and Peter had always wanted to go as he used to play a video game that took place in the castle, and it was a bucket-list item for him to see it in person. 
Once we arrived, we found ourselves in a storybook Bavarian town in the shadows of the magnificent Alps. Classic German architecture and design, outdoor restaurants serving classic German cuisine and, of course, lots of great beer. However, the place was jamming, and when we got on line to buy tickets to admission to the castle, we found out that we'd first be able to get in 5 hours later. 
After a little debate, we decided to make an entire day of hanging around here, and got tickets to see both that castle and another right in the town – Hohenschwangau. We first ate lunch (I had weisswurst, a German pretzel and beer), then visited that castle. The grounds and views were beautiful, and the tour was very interesting as we learned about the King and his family.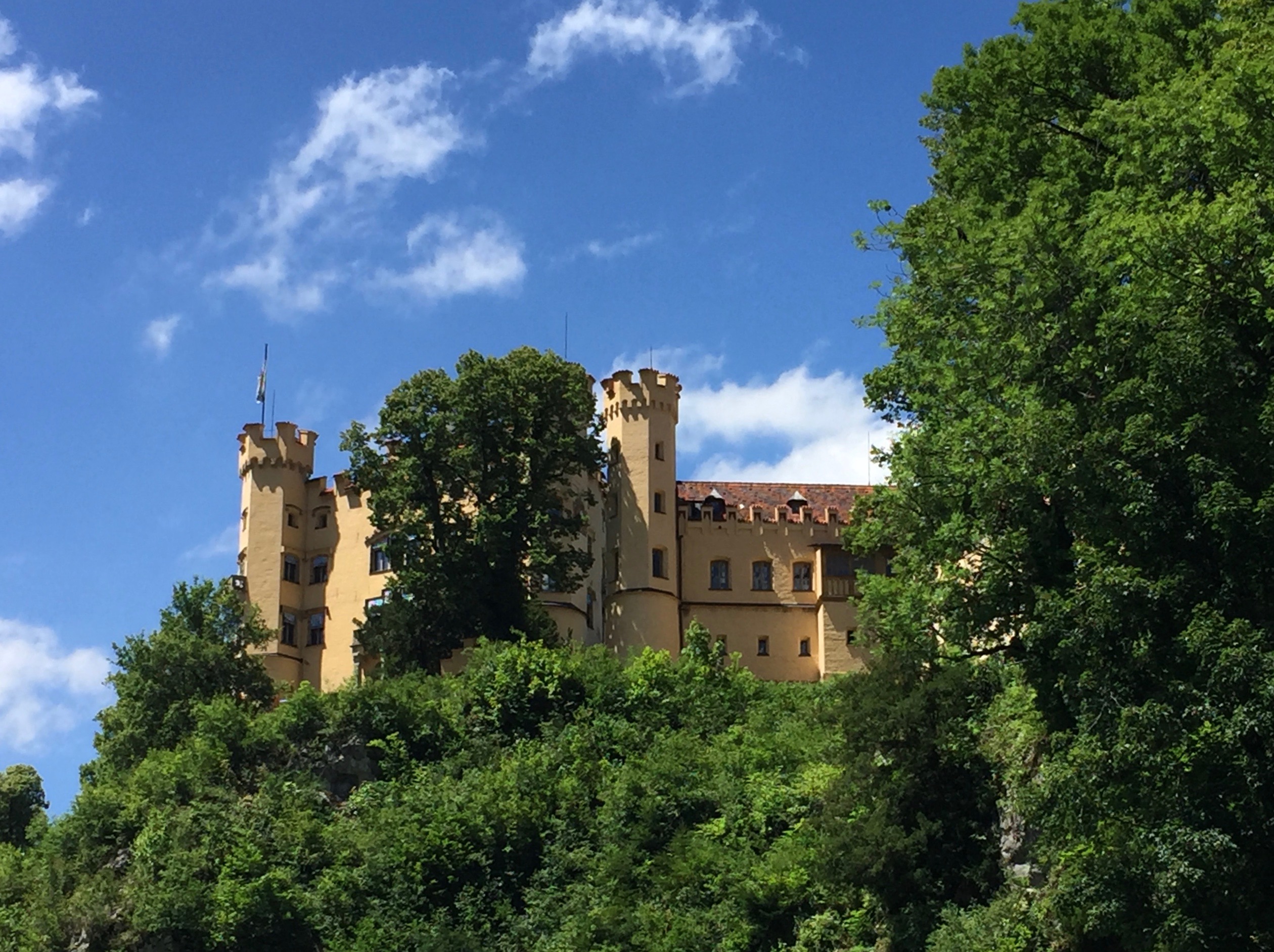 But it was a rather quick tour, and we were once again strolling the streets. One thing about this band…it's a bunch of real characters, and we'll usually act up, do really silly stuff, and generally get into trouble. Among other things, Steve and Brian stripped down to just about nothing to take a dip in the beautiful Alpsee Lake, which had the clearest water you've ever seen. Lots of laughs ensued, especially when they emerged from lake in just their underwear and attempted to get dressed...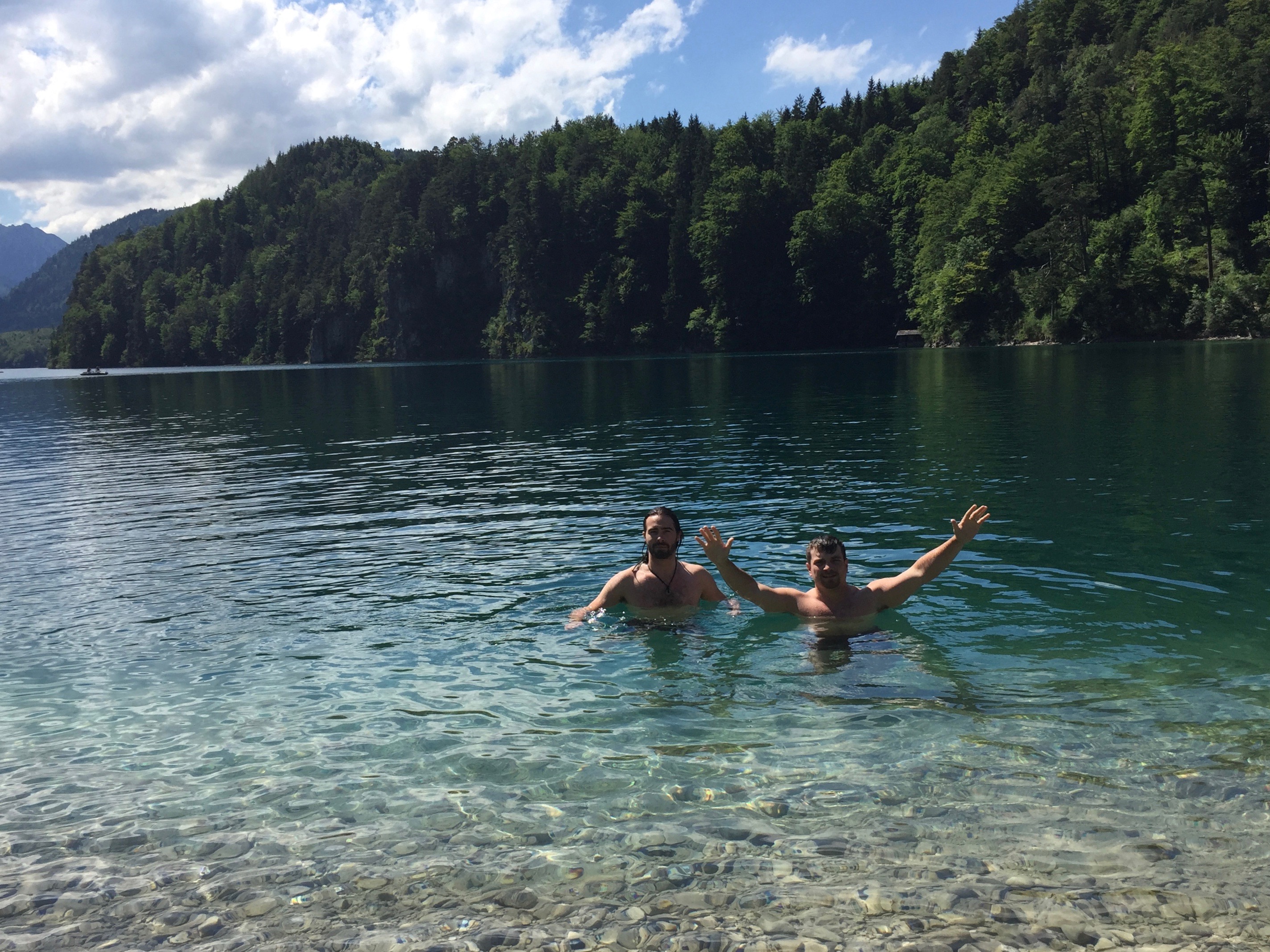 We then hiked up the mountain to the Neuschwanstein castle, and although we're all in pretty good shape, we felt it in our legs (by the end of the day, the health app on my iPhone said we climbed 64 floors). When we got to the top, the views were absolutely breathtaking…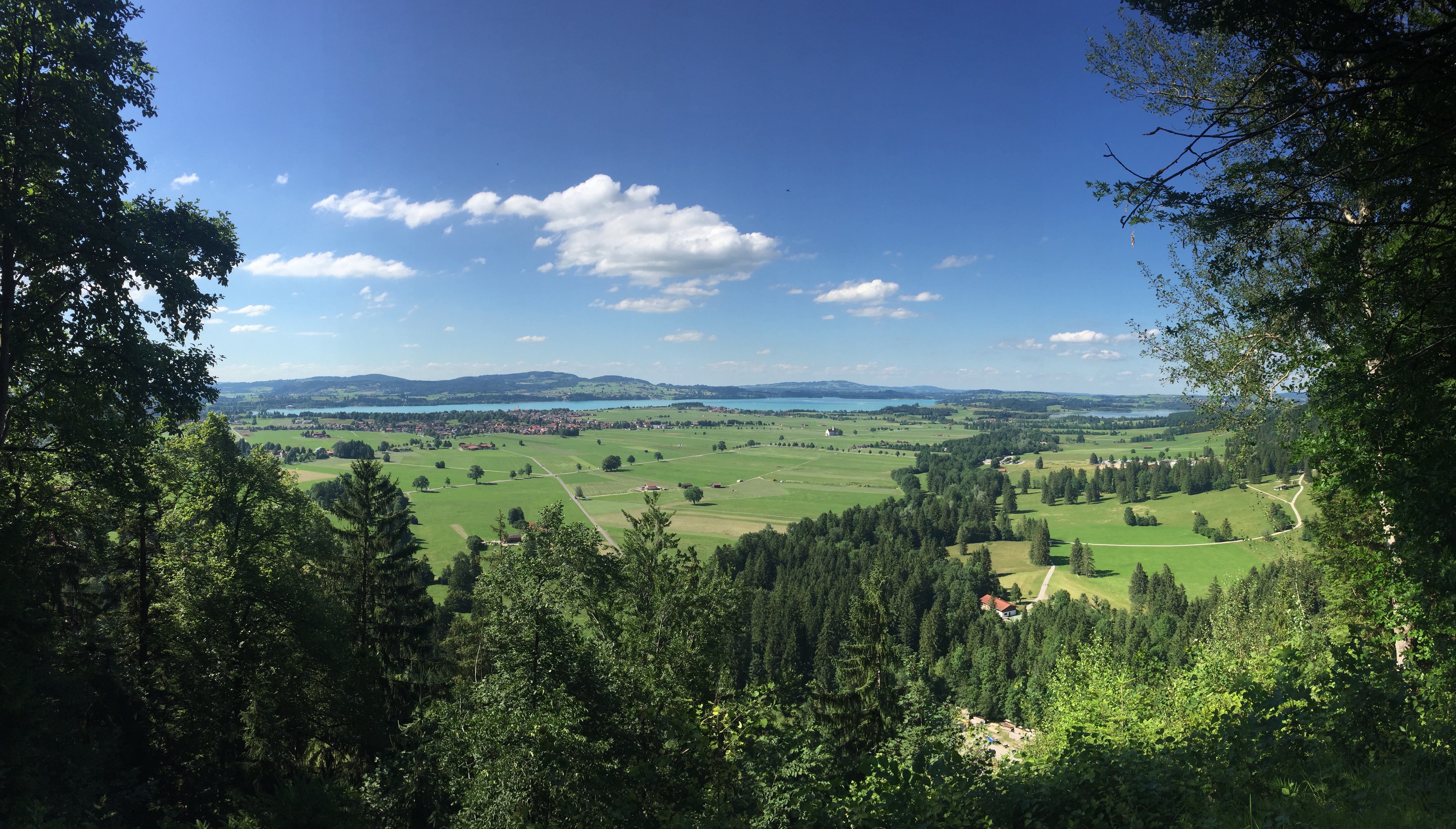 And the tour of the castle was well worth the wait (and the climb). It's too long a story to get into here, but the history of "Mad" King Ludwig is both fascinating and tragic. He had a deep interest in medieval castles and had this one constructed in that style, but with such elaborate detail, and groundbreaking conveniences for the mid-1800's, including running water, flushing toilets, an intercom system and more. 
Another thing about this band…we seem to make friends wherever we go. As we were in the Throne Room, our tour guide turns to us and asks…."Are you guys a band?" Turns out he's a drummer, and we had a nice chat with him after the tour…and he's coming to our show now in Munich. 
We ended the tour by taking another 15 minute hike to a bridge that goes over a gorge with a waterfall, from which you have yet another amazing view of the castle.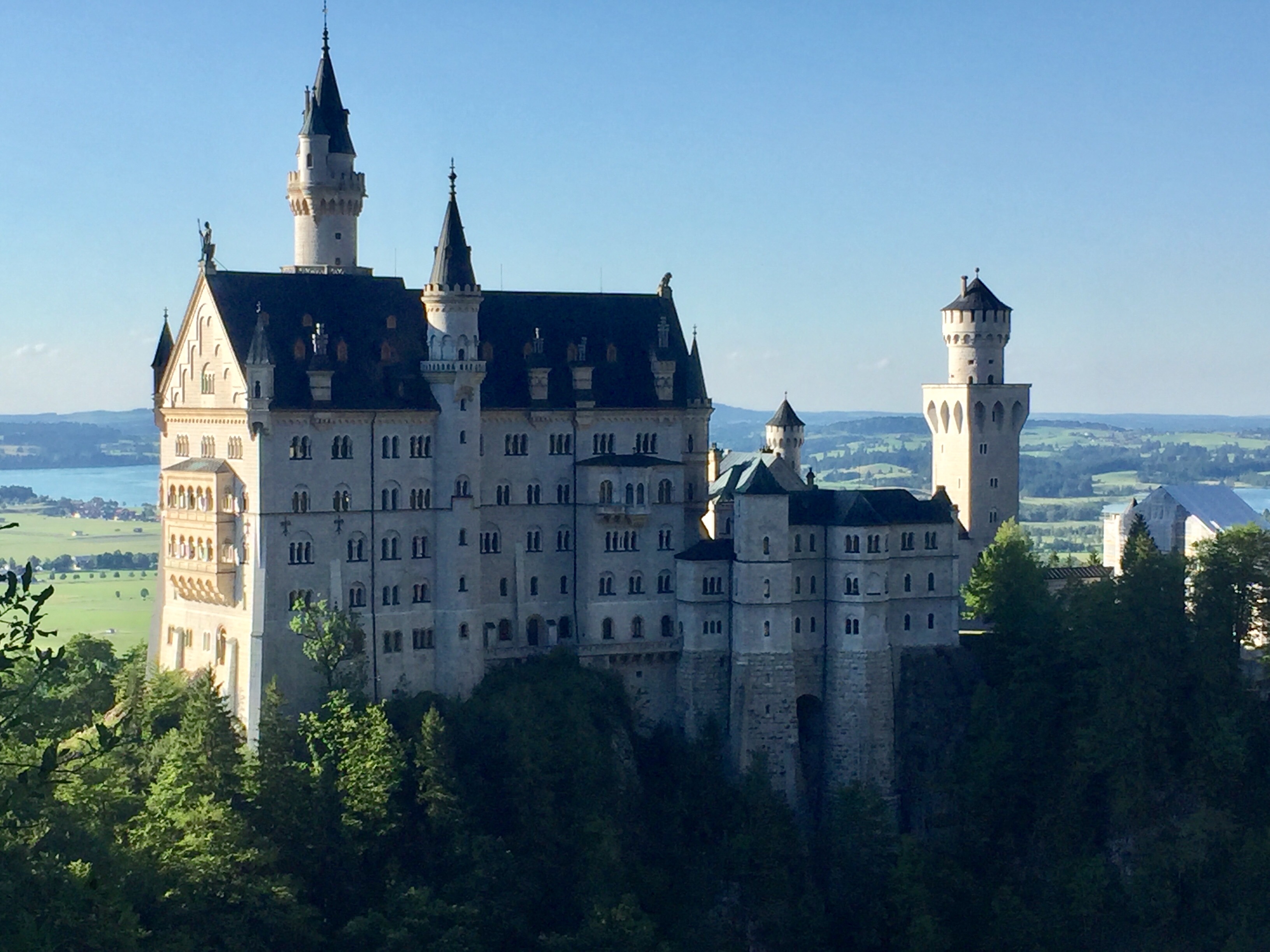 The walk down from there tested the strength of our legs further, and when we finally got the bottom, we were tired, hungry and thirsty. 
So what else to do but find another classic German eatery? We did, had more great German beer and delicious food while sitting outside in a flower-studded patio. By the time we were done it was nearly 9 pm, and what had been a bustling town was now quiet and serene, and it was nice to stroll back to our cars and enjoy a last look at the beautiful scenery in the stillness. 
So it was back to the hotel, where we all essentially dropped in to bed…bodies tired, but definitely worth it at the end of an amazing day together in Germany. 
And tomorrow – it's show day in Munich!