Today was a day that we were looking forward to for a while now, as we were going to Maidstone to play the large Ramblin Man Fest. It's an interesting event, that mixes indie rock, country, blues, and a healthy dose of 80's heavy metal. You might not think that Jessica Lynn belongs in a festival with such bands as Extreme, Dokken, Glenn Hughes or UFO, but there we were. 
The event has 4 stages – including a "Groove Rider" stage for indie rock (which was being headlined by the awesome Rival Sons today), and we were playing the "Outlaw Country" stage, opening for incredible guitarist Kenny Wayne Shepherd. 
We arrived at the festival at our scheduled time of 11 am, and having played many festivals at this point, I'm sorry to say that this was extremely poorly run in regard to getting the artists inside. Events like this are enormous, and it's important for the staff to guide everyone properly to where they need to go, but we were misdirected numerous times. We were even told to park, unload our instruments, and as we stood at the gate, instruments in hand, obviously looking like a band, we were told by security we couldn't enter the very gate we were told we had to go into by someone else. And, Jessica had to get inside quickly because she had an interview scheduled. No one  had a clue was going on, and it was truly frustrating. 
But after a few missteps, we finally met our artist liaison Hannah who sorted everything out for us...so we had our credentials, and were guided to the side of the stage where we could park and unload our gear...and from that point everything ran smoothly, and the staff inside the event was very helpful (especially the incredible stage crew run by Adam!).  Caitlin Koch (From "X Factor" season 1) was up first on the Outlaw Country stage, and while she was doing her set, which included our new friend Steve Marks (no relation, but he's the guitarist from our tour mates Gasoline & Matches, playing bass this time for her), we were getting our gear together in the wings. The large crowd loved her – she got an awesome reaction, so we were getting psyched to get in front of them too. 
The stage was in a large tent, which was all for the best as it rained on-and-off throughout the day (and sometimes quite hard). At 2 pm, it was time for our set, and we kicked things off with a cover of Brooks & Dunn's "Play Something Country," which pulled the crowd right in, which at this point not only jammed the entire tent, but I could see the crowd spilling outside, trying to see inside. As we went through our set, it was obviously that this was the most enthusiastic audience we've played to so far on this tour…and we were definitely feeding off their energy. I thought this was a great show all around. Here's a shot during our show...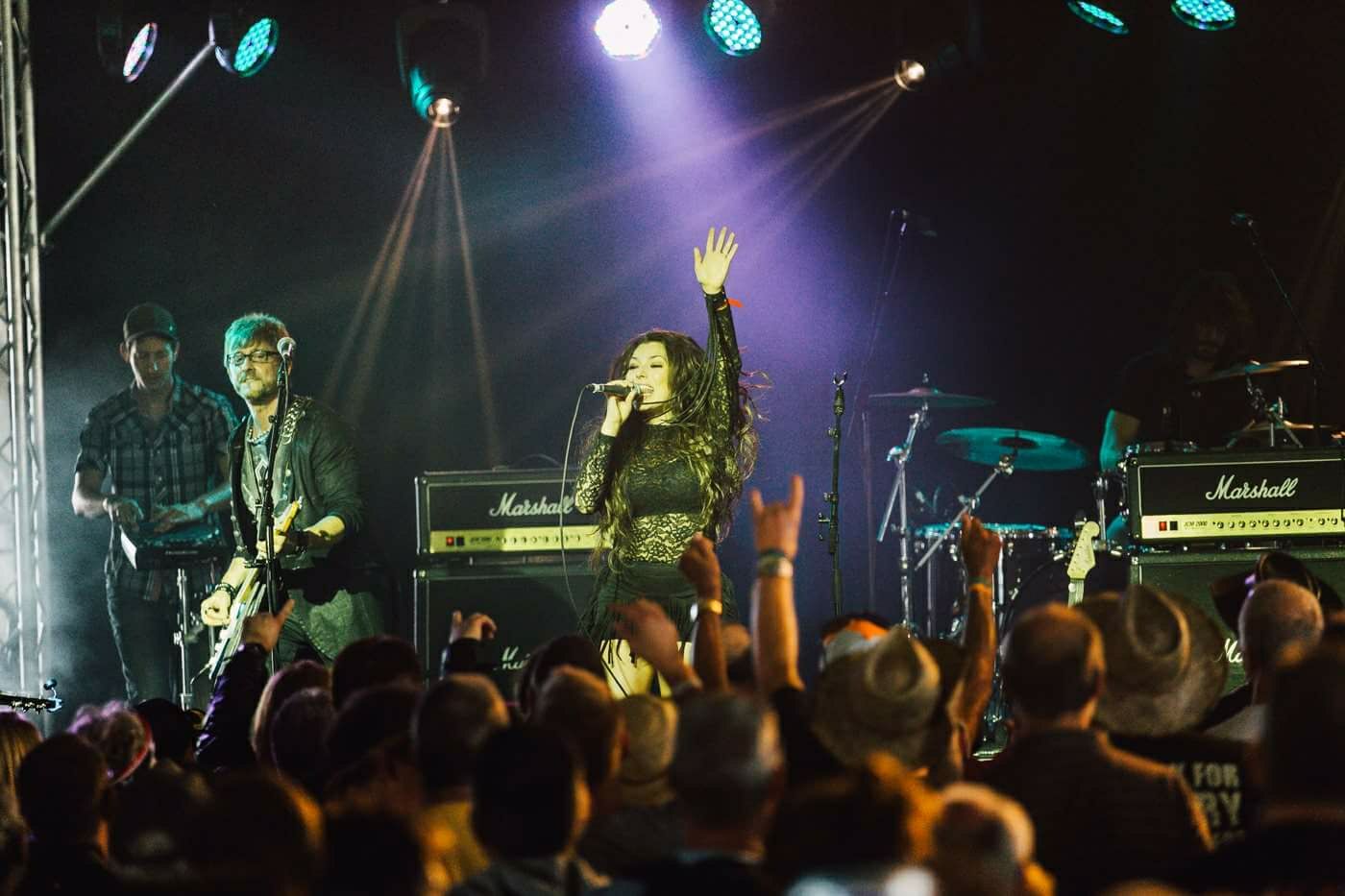 And here's what it looked like from the stage…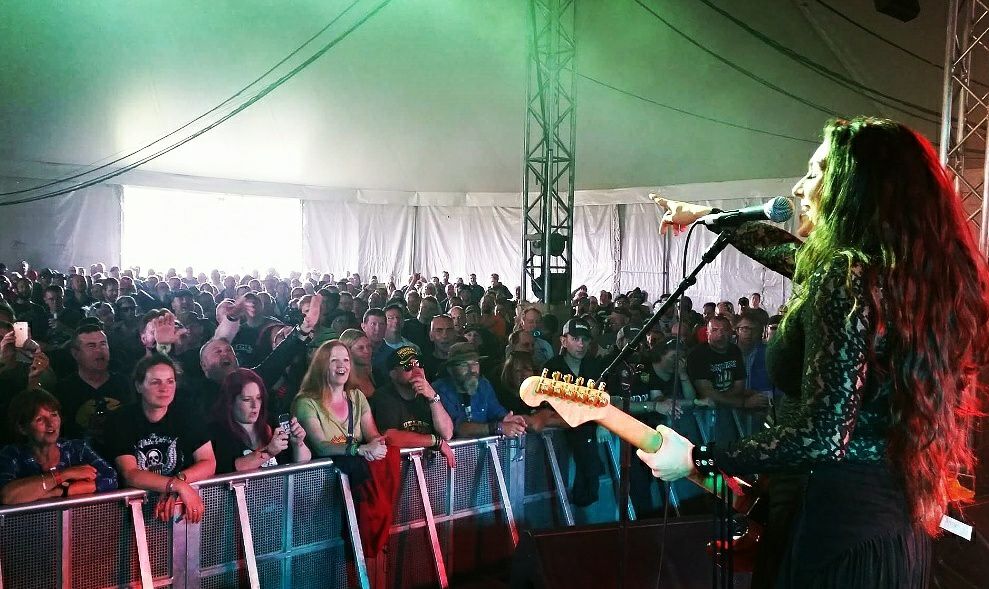 After our set, we had a meet-and-great session in another tent on the grounds, with Jessica and the rest of us signing autographs, posing for pictures, and talking to fans. The positive reaction was overwhelming…and I think it's safe to say at this point that the U.K. really loves Jessica Lynn. 
After that, the time was our own, so we had lunch in the artist catering tent while mingling with some of the other bands, then had a drink in the VIP area, and did some browsing in the tented shops on the grounds. I caught some of Glenn Hughes' set on the main stage (heard him do "Burn," and man, that dude still can sing!). We finished by watching the super fun Steve N Seagulls band back at the Outlaw Country stage, and then after the long day…we were all wiped out and it was time to go. 
We hadn't yet checked into our hotel, so we first went there, and found there was a snafu with our reservation, which was made by the promoters. It was all worked out, but we had to chill in the lobby for a while, so Brian and I ducked into the lobby bar for a really well-made Bloody Maria while waiting. We finally got up to our rooms, quickly showered, and then met down at the hotel restaurant for a late dinner (first at 10 pm). 
It was a bittersweet day for me, because although today's show could have been my favorite so far on this tour…it was also my final show for this tour. Unfortunately, I had important prior commitments back home in the U.S. before this tour was fully booked, so as I write this I'm at London's Heathrow Airport waiting to get on my plane back home. 
Fortunately, the Jessica Lynn Band are an insanely-talented bunch of musicians, so in preparation for my eventual early departure they've worked out alternative arrangements, for which Jessica is going to have to play a lot more guitar during the set.  It restricts her performance ability a little (hey, it's tough to run around the stage AND play guitar AND sing at the same time!). But no matter…they are going to continue winning every audience over for the remaining few dates on this tour. 
And because of that also, this is going to be my final entry in this Tour Diary. If you want to know what's been happening in Europe with the band, you'll have to ask them yourself! 
So to conclude, I want to thank Jessica, Steve, Peter, Victoria, Bob, Matt and Brian (and Wilma too, who left us last week) for an incredible 6 weeks on the road. It's been an amazing journey, and I couldn't imagine taking it with a better bunch of people. I'm going to miss you guys…now go out and show 'em how it's done!   And I'd also like to thank you too, for following along on our adventures here with me in this Tour Diary.  Thanks for reading and commenting!
And since I'm still in the U.K – cheerio, for now…