After getting settled in at Cowboy Guest Ranch in Voghera, Italy on Wednesday, we awoke on Thursday with renewed energy…and a day off! Touring can sometimes be grueling – playing until late at night, waking up early the next morning, driving a crazy amount of hours, pulling into a venue, soundchecking, playing the next show, packing up, getting just a few of hours of sleep before getting up and doing it all over again. 
So when you have a day off, it can often be spent simply sleeping to re-energize. But since we're still at the very start of this tour, we were up for an adventure. 
After breakfast at the hotel, we took a 45 minute train ride from Voghera to Milan, and then found our way on the Metro (their subway system) to the huge Milano Centro plaza outside of the Cathedral Duomo , a spectacular church that's famous for being the home to Leonardo da Vinci's "The Last Supper."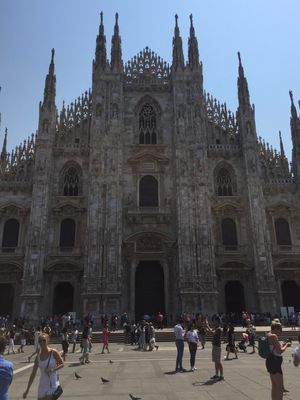 Unfortunately, the line was too long for us to wait to get into the church (we only have a few hours to spare, and there was much we wanted to do), so we walked around town. One of the things that always has impressed me about European cities is their history. At around 240 years old, the United States is a relatively "young" country. But when in Milan, and seeing buildings that were constructed as early as in the 1300's, you get a different perspective on time and the history. 
As we went sightseeing, we visited the famous La Scala Opera House, the Castello Sforzesco (The Sforza Castle, built in the 1400's) and had an authentic Italian lunch in the high-fashion shopping district, in the shadow of Gucci. 
We headed back on the train around rush hour, which was interesting to see. What struck me is that most people were far better dressed than commuters I typically encounter on NY trains. Style and fashion seem to be more important to a larger group of people here. 
When we returned to our home at Cowboy Guest Ranch, Jessica, Brian (our new drummer) and Peter (bass) worked out in the extreme heat (it's been over 90 degrees every day). As much as I like to do that too, I passed on that option and got some other work done on my laptop instead. 
We all reconvened for a big group dinner with the whole band, our hosts, and other people involved in the festival. Afterward we went to The Saloon here which was featuring a local group, the Lucky Star Country Band .  Yes, there are local country bands in Italy, and even better, lots of Italians who have completely embraced American country music culture.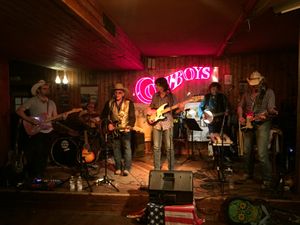 The Saloon was filled with many Italian men and women in their best jeans, western shirts, cowboy hats and boots…all line dancing and cheering on the Italian musicians in their Western finery. It was quite the scene – highly entertaining. 
Knowing Jessica was in the crowd, they invited her up to sing a tune with them, and she joined them for a country rendition of Nancy Sinatra's "These Boots Were Made For Walking." Everything wrapped up around midnight in The Saloon, and I was about to go up to my room when someone grabbed Brian (the only other band member left, besides me) and I, and said…"Come outside - Pane, Salami y Vino!" 

And sure enough…everyone in their fine country dress gathered at tables outside The Saloon for exactly that…loaves of Italian bread, locally made salami and wine. Although they clearly embrace American culture, there are certain parts of Italian culture that just can't, and shouldn't, be left behind. 
So Brian and I joined them, drank some wine, made some new friends, and finally made it back into the hotel around 2 am when everything wound down. 
Not bad for our second day on the road!  And next up - our first show...