After yesterday's post that outlined our travel troubles, for now I'll spare you any further stories of grief about the band simply trying to get everywhere we need to be. So let's just say that there were a couple of additional bumps getting our tour vehicles straightened out…but once we did, everyone piled in with our luggage gear around noon on Sunday, and started the drive from Paris to Caudry. 
The drive itself was uneventful, and frankly, a little disappointing regarding the scenery. Yes, we'd pass a picturesque place every now and then, but for the most part it was flat farm land…not unlike what we see when we tour the US. 
But after a couple of hours, we pulled into the pretty little of town of Caudry, where we were playing the 35th anniversary festival for BLC Radio. Jessica, Steve, Peter and Victoria came here without the rest of us in the band last year to do a handful of shows, and had met some wonderful people with whom they were reunited when we arrived, including Jean-Marc, who organized this event. 
They had set the stage in a town square in such a beautiful area – exactly how you'd imagine a quant European town to be...looked right out of a story book.  We had a relatively quick and efficient sound check (although language differences are still a hurdle to jump), but everything was perfectly balanced on stage. 
After performances from some local line dancers (it's amazing to see how popular this is all over Europe), we hit the stage. It's always interesting to do our show in front of different audiences, and see how they react as we start playing.  This crowd filled the square and the street, and were very attentive and focused on what we were doing…but also very polite. Nice applause, but not like some of the crazy crowds we've played for previously. 
But as the show progressed, you could see them loosening up more and more. And then eventually, I could see some trying to sing along as we'd hit the choruses, dancing, hands in the air...fully participating in the show.  And as we left the stage before our encore, we got this shot with a DJ from BLC Radio, and you can see what turned into a really enthusiastic crowd...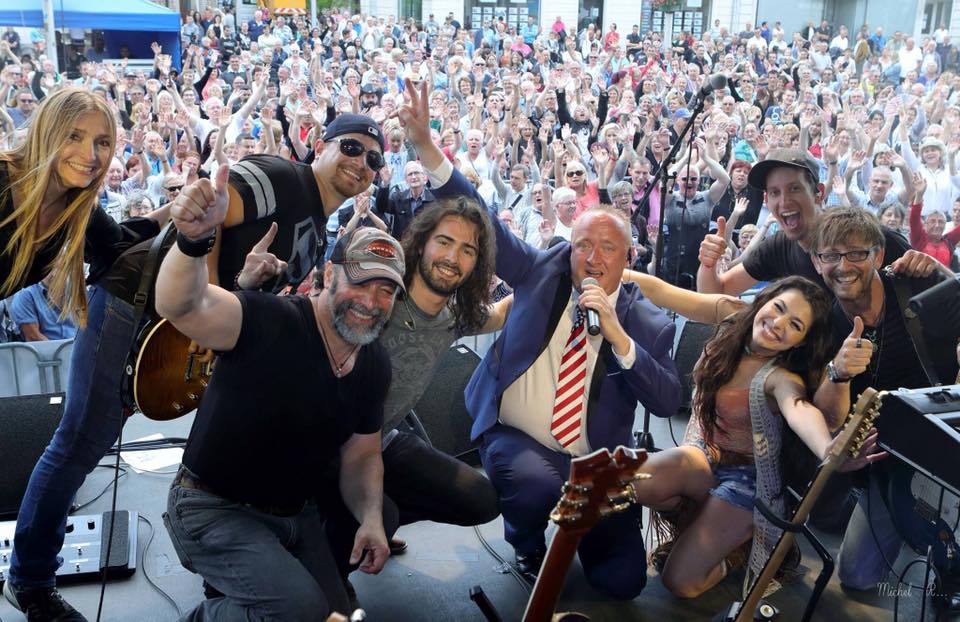 For an encore, we did a cover of Shania Twain's "Man, I Feel Like a Woman," and was great to see this French crowd singing along in English.   After the concert, Jessica did a meet-and-greet, followed by dinner with some of the friends the others made when they were here last year. And we could easily see why they've maintained these friendships.  All really cool people, who made us feel so welcome. 
But by 8 pm, many of us hit the wall. It's been a whirlwind few days since the start of this tour, with a few ups and downs.  And having had little sleep so far, I'm already in bed at 10:30 pm as I'm writing this. So much for the myth of a hard-partying band on the road!   We have a 4 hour drive to Amsterdam tomorrow morning, and are playing there tomorrow night, and I'm gonna need all the energy I can get!  (Yeah, boring, I know....)
So…good night my friends. Until tomorrow, from Amsterdam.