The start of our third week on the road found the Jessica Lynn Band all doing our separate, every day things…laundry, working out, changing guitar strings, or just resting. But we met up at 2 pm to drive from our hotel in Neu-Ulm to Munich, where we were playing The Rattlesnake Saloon Wednesday night.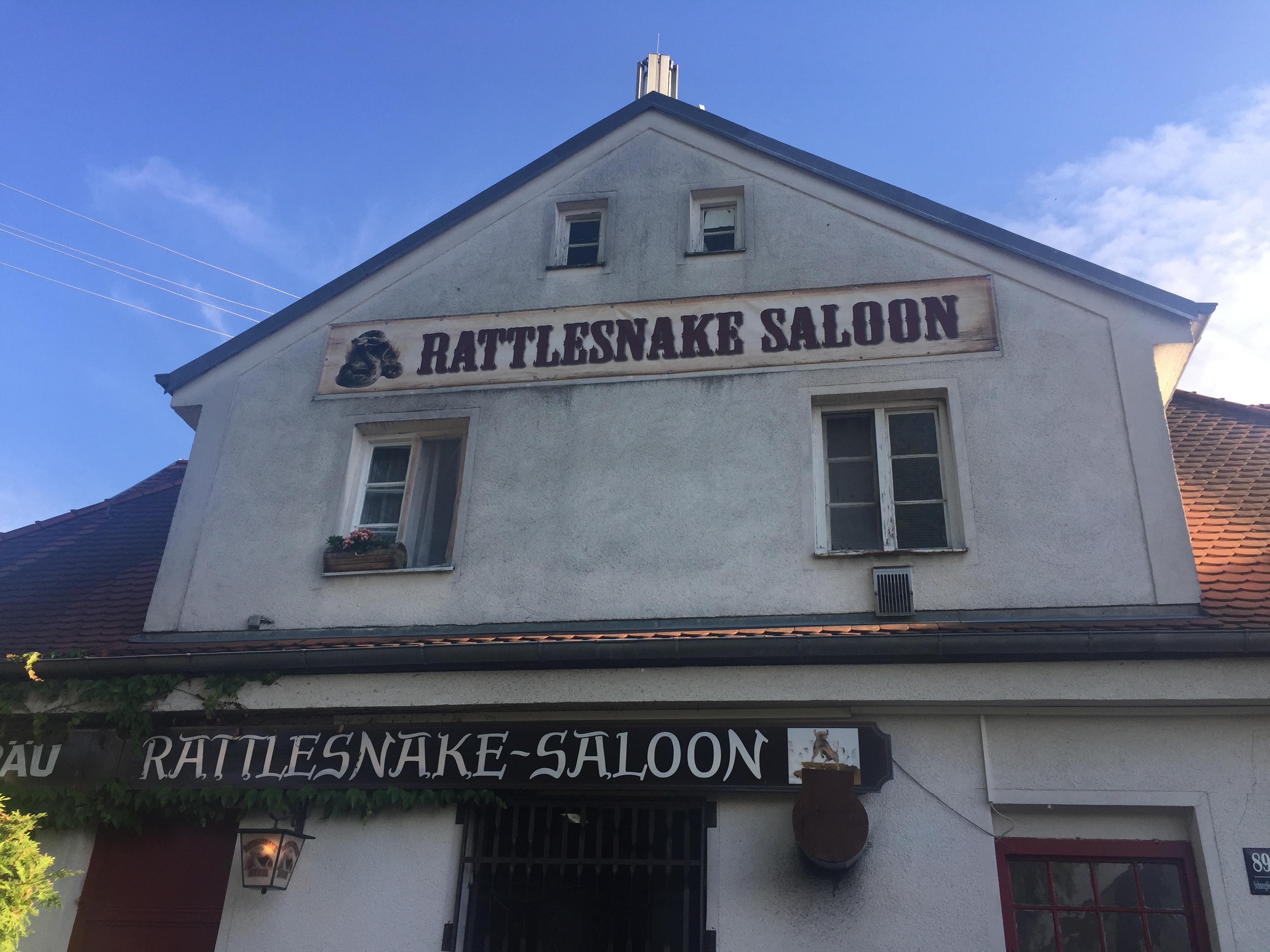 We were surprised to find the venue in a residential neighborhood of Munich, but learned that Bruno, the owner, opened this place 33 years ago and saw the homes spring up around him. He wanted to open a place that wasn't on a commercial street, because his intent was to make it a real music destination, and not just a bar that people randomly wander into. As a result, he said they never have fights, drunks in the streets, or problems with their neighbors. It's a very unique situation, but it clearly works.
And for further evidence there are the photos of all the country and blues "names" who have graced the stage here over the years, the most-recent being guitar great Albert Lee. I personally love places like these, as they are steeped in history, and it's so cool to see all of the posters on the wall of the stage, featuring so many of the artists who have played here. Here's a shot of the stage after our sound check...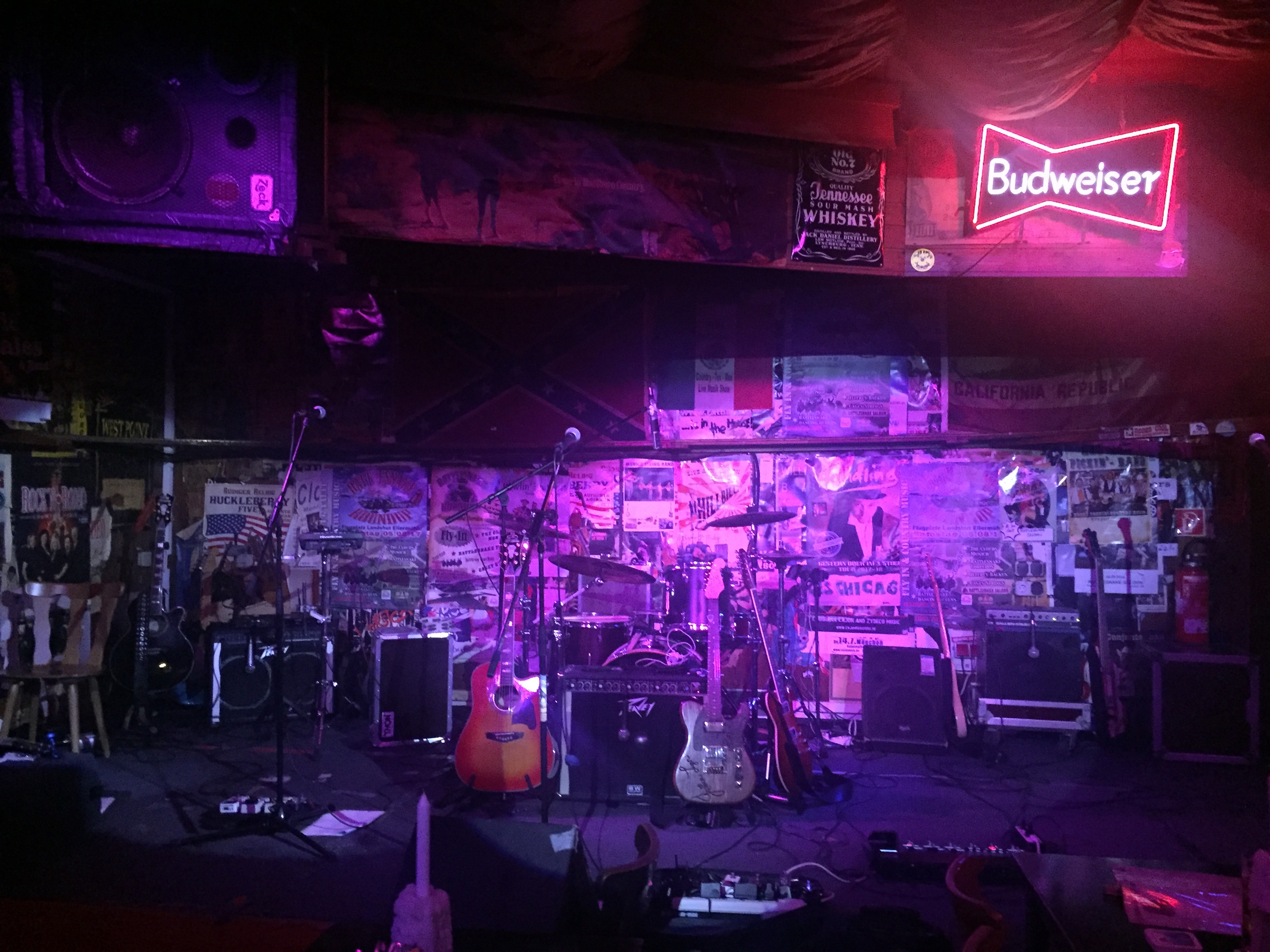 And, Bruno and his wife, Gabby, were such gracious hosts. We sampled some of their own line of Rattlesnake Beer, and I had my first Mexican meal of the trip (their menu is heavy with American and Tex-Mex fare, with some German specialties mixed in, of course). After dinner, we all just hung out and played with their very cute little dog, Dancy.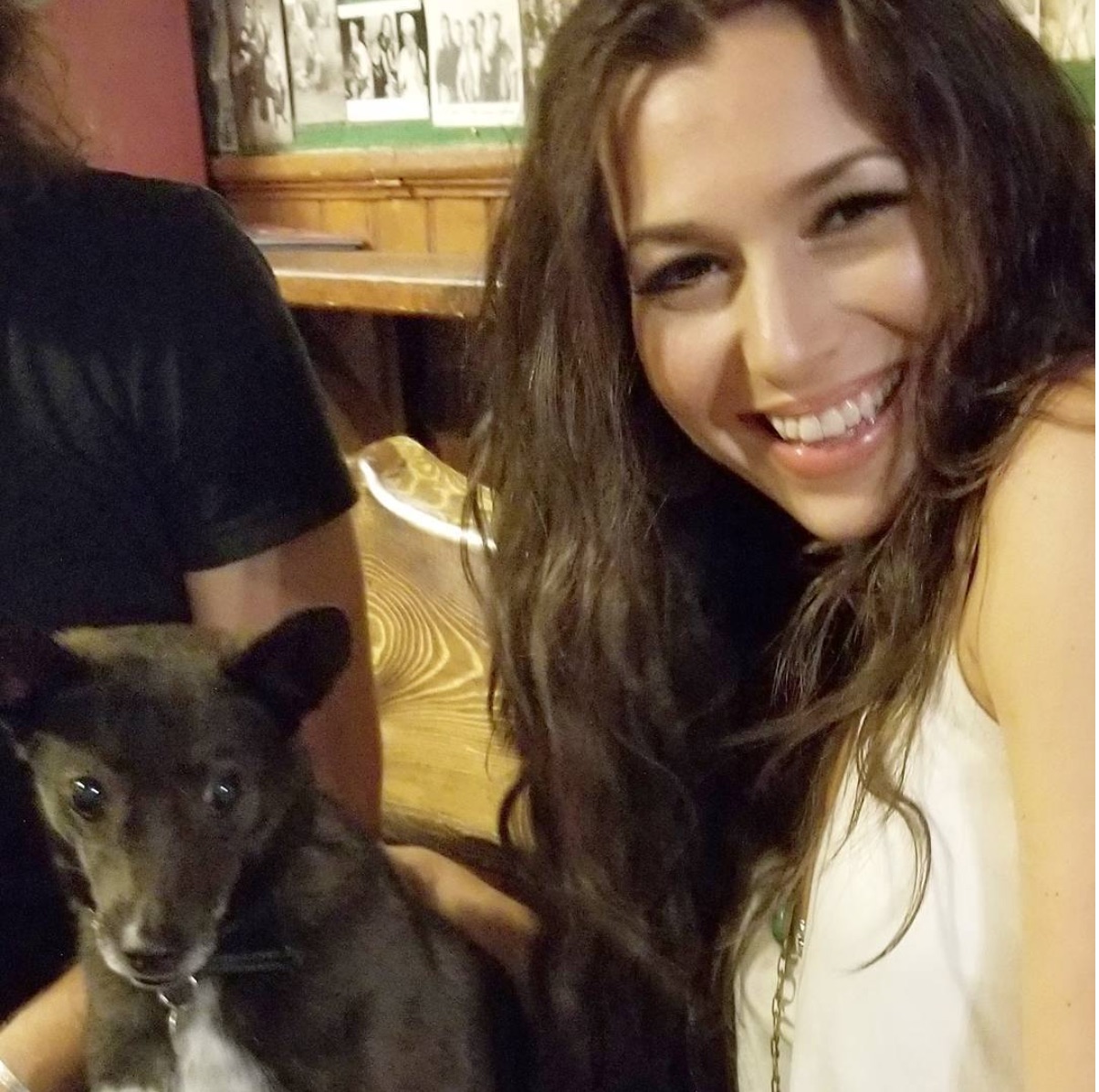 A little while later, our friends from Klotz Cables came in, and it was great to see them!  Klotz makes super high-end audio cables, and they have been a tremendous supporter of the band. We all use their cables on stage and in our home studios. We've only have the opportunity to see them and hang out with them out at NAMM in California, so it was a great to see them on their home turf…they're based right here in Munich. 
Then at 8:30 with hit the stage, and it was a solid show. We had a little mishap during "Kiss My Class," as Brian's bass drum pedal broke. The beat dropped out, but he went to the toms to keep it going as Matt tried to fix the pedal while Brian was still playing. It was a bit rough, but we made it through the song, and fortunately Bruno had another pedal…so we replaced it, and the show continued.  And, it's a lot of fun playing smaller venues, as we get to be more up close and personal with the audience, in contrast to the larger festivals we've also been playing.  Don't get me wrong - those large shows are incredibly fun, but it's also fun to mix things up.
Afterward we hung with our Klotz friends, and spoke with many cool people who came out to see us play, including some who we had met at our Nurburgring show (if you've been following my blog, it was a couple of those we had "gloved schnapps shots" with after that show). 
But my favorite moment of the evening came when Jessica found me and said that a couple had driven a long distance to come to the show, as they were looking forward to hearing their favorite song of Jessica's live -- "Better Than That." Unfortunately, it wasn't in the set tonight, but never wanting to disappoint fans, Jessica and I took out our acoustic guitars, and along with Victoria joining us on background vocals, the three of us played the song for them completely unplugged while sitting on the edge of the stage. I love impromptu, intimate musical moments like this. 
But about an hour after the show was done, we had to leave as we still had over an hour drive back to our hotel, where we all arrived after 1 am, and promptly passed out. A great evening.
I'm once again putting two days in this one post, because on Thursday everyone is going into Munich to spend a day off with our friends from Klotz, who are going to show the band around Munich. Unfortunately, I have a lot of work and communications to catch up on, so I am staying behind at the hotel to get things done.   But trust me, what I'm up to is going to be boring as hell for you to read, so there'll really be nothing for me to post.  But if you want to know what was up with the rest of the band on this day off…you'll just have to ask them yourselves! 
Next up for us is travel to our next destination on Friday, as we get closer to Pfullendorf for a big biker festival that we're playing this weekend. Of course, I'll update you then. And, by the way, thanks for continuing to keep up with our exploits!